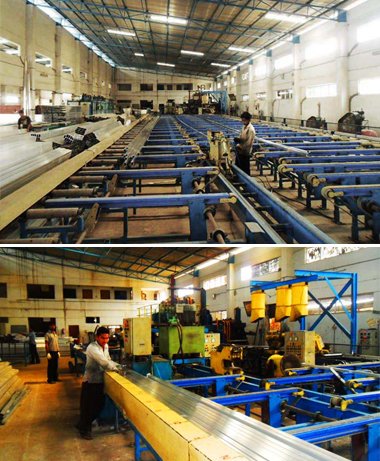 Bhagwati Sai Metal Alloys have set up an Aluminium Extrusion Plant, first of its kind in entire N.E. Region for Export & Supply of high quality profiles of Aluminium Extrusions in different Alloys and to meet the ever-changing needs of various industries. We have one of the few plants in India that is equipped with the most sophisticated manufacturing facilities (Extrusion press and allied equipment) & computerized tool room to received high quality & quantity production. Our technical advancement integrated with our field knowledge & engineering allows us to develop innovative products to meet customer specific requirements. We offer a wide range of Aluminium Extrusions and Aluminium profiles in different  alloys.
APPLICATIONS
Aluminium Extrusions and Aluminium Profiles in different alloys for general and customized applications in various industries such as
Engineering Industry
Agricultural Industry
Transport Industry
Communication Industry
Electronics Industry
Construction Industry
Aviation Industry
OUR STRENGTHS
Advanced Manufacturing Facilities
We have an ideal combination of modern machinery, gas based aluminium extrusion plant and Engineering expertise to offer high quality extruded Aluminium profiles. Our manufacturing facilities incorporate latest extrusion technology including:
Sophisticated PLC extrusion press.
In-house foundry with Hot-Top Casting technology.
Semi auto Anodizing Plant with Electro colouring facility.
Quality Assurance:
All our products confirm to international quality standards.
We use LPG as fuel in our manufacturing activities that facilities in maintaining the quality of products.
Continual Upgradation of Technology
Constantly updated manufacturing technology, process automation and alloy development enable us to keep pace with the technological advancement in the Aluminium Extrusion Industry.
HIGH QUALITY ANODIZING
Due to use of LPG gas, sulfur content is very negligible that ensures high Quality anodizing.
Key benefits of high quality aluminium extrusions are manifold.
Light Weight – Aluminium weighing one third the weight of iron, steel, copper or brass and hence becomes easier to handle and transport.
Strength – Aluminium Extrusion can be made as strong as the purpose demands.
Strength-to-weight Ratio – The combined property of strength and lightness in aluminium makes it a key ingredient of many industrial applications.
Corrosion Resistant – Aluminium provides a natural protective layer against environmental, chemical and physical corrosive agents and hence, can never rust.
Electric Conduction – Aluminium assures reliability and uniformity in quality and hence minimized rejection rates, corrective fabrication and production downtime.
Variety of finish – A wide array of finishes ranging from paint lacquer and enamel, textures from rough matte to mirror smooth and a variety of powder coated and anodized colours are available. The finish enhances durability and elegance of the product.
We have our own foundry with tilting furnaces and hot top system to make billets covering a wide range of alloys. Complete metals treatment procedures as degassing, grain refining and filtration are carried out . The alloys are analyzed to ensure that they are within the limited required.